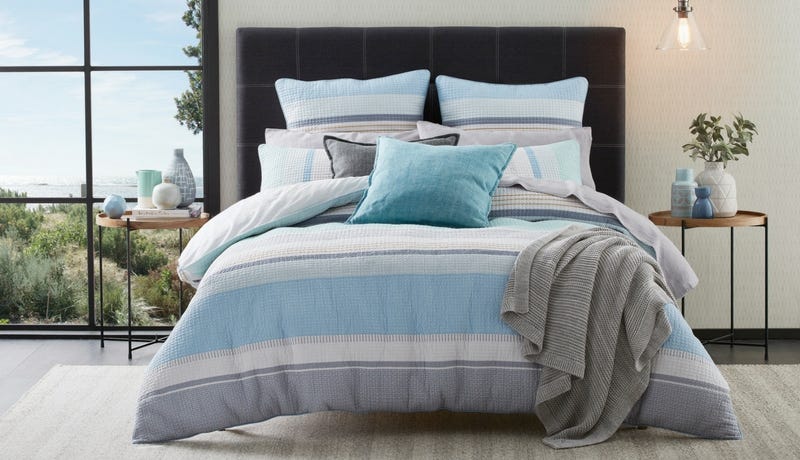 An average person spends 25 years sleeping. Follow these steps so you can spend a third of your lifetime in comfort and style.
STEP 1: Protect your mattress and pillows

Extend the life of your mattress and create a cosy cushioning effect by investing in an all-cotton mattress protector. Follow this by protecting your pillows with pillow protectors. These machine washable items ensure the longevity of your mattress and pillows, helping you to sleep comfortably all year-round (HINT: They are also far better for your budget than having to regularly replace these items!).
STEP 2: Invest in a quality sheet set

Surround yourself in softness by indulging in a quality sheet set. With all the time spent in bed, high quality sheets are worth the investment. There's no better feeling than slipping into luxuriously soft sheets at the end of each day. Look for qualities such as the thread count, fibre, weave and finish to find silky smooth, durable sheets. Balance the budget by opting for high-quality sheets and pairing them with affordable styling decorations.
STEP 3: Find your quilt

Whether you prefer the softness of Goose Down, the warmth of a Wool Blend or the allergy benefits of Microfibre, take the time to find what quilt works for you.
Find out what quilt suits you here.
STEP 4: Make a statement with a quilt cover

Transform your bedroom instantly with a new quilt cover. Remember that the bed is most likely going to be the largest and most eye-catching element of the room and so make it the star with a popping pattern or interesting texture. Look at the textures and patterns you will be introducing with your quilt cover. Try and introduce the feature colours in the bed linen into the surrounding bedroom decor. Pair it with the coordinating European Pillows to give your bed the stylist's look.
STEP 5: Layer it up

Bring your quilt cover to life with some key decorative cushions and a restful throw draped softly across the bed. Remember to contrast textures and prints – don't be afraid to layer bedspreads with quilt covers and a throw to add cosy textures to your bed. We love pairing a bold cushion with a softly textured cushion to finish the look. Find what colours are featured in your quilt cover and see what colour you want to accent with your cushion choice!