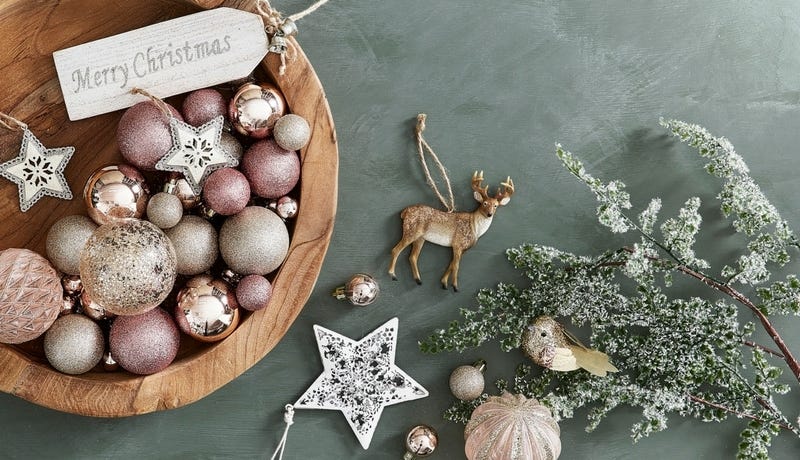 The Woodland collection
Bringing the wonder of a white Christmas into your home, the Woodland theme introduces an elegant new Christmas style in a palette of softened neutrals, timber features and snowy details. An abundance of charming forest friends feature through the collection alongside flickering candles, wintry silhouettes and Nordic-inspired accents.
Styling your tree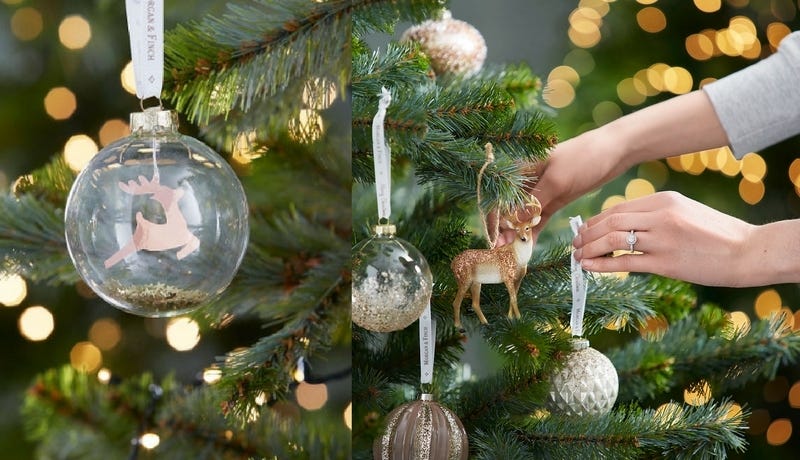 Begin styling your tree with a beautiful bauble set in a palette of champagne, ivory and pale pink and hang these evenly across the tree. Try draping some white berry garlands around the tree to highlight the enchanting woodland theme. Then carefully choose some beautiful decorative baubles to scatter across the tree; we're loving glitter speckled glass baubles and feather accents for this look. Finally, incorporate an array of forest friends peeking out between the branches to complete the look.
Carrying the look throughout your home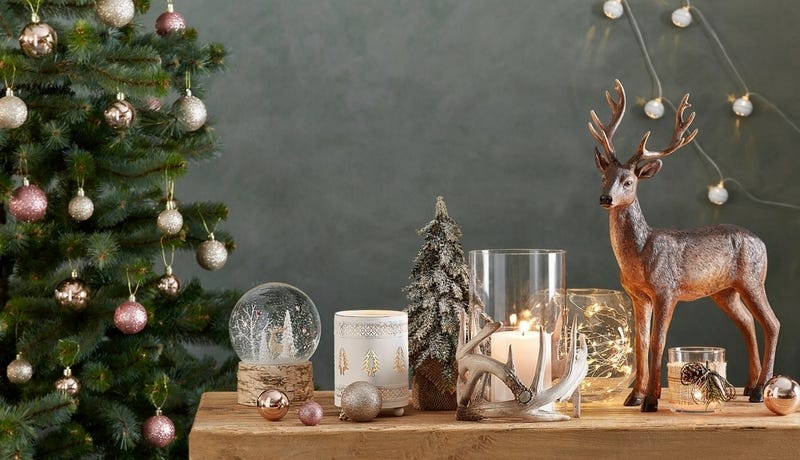 Turn your home into a storybook wonderland by expanding the theme throughout your home. Decorate your mantel and side tables with wintry silhouette candle holders, glowing fairy lights, natural wood features and faux antler accents. A beautiful reindeer decoration completes the look.
The Final Touches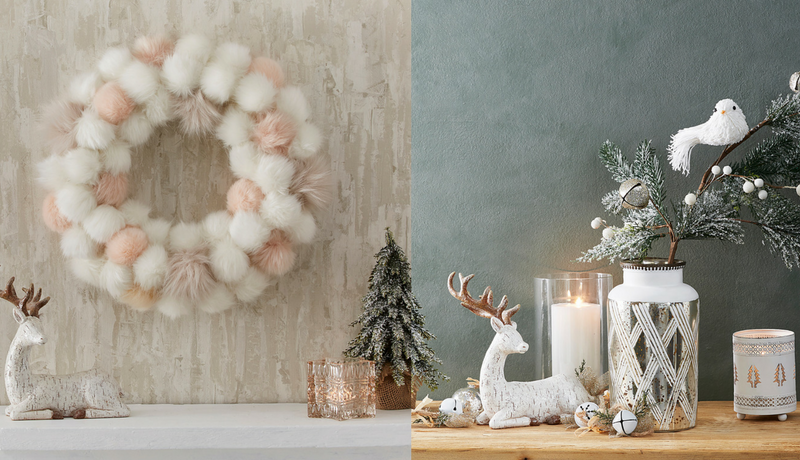 Don't forget the final details! A gorgeous fuzzy pom pom wreath is a contemporary addition to welcome guests warmly into the home and snow-capped sprays displayed in a sparkling vase are the perfect festive touch for the entryway.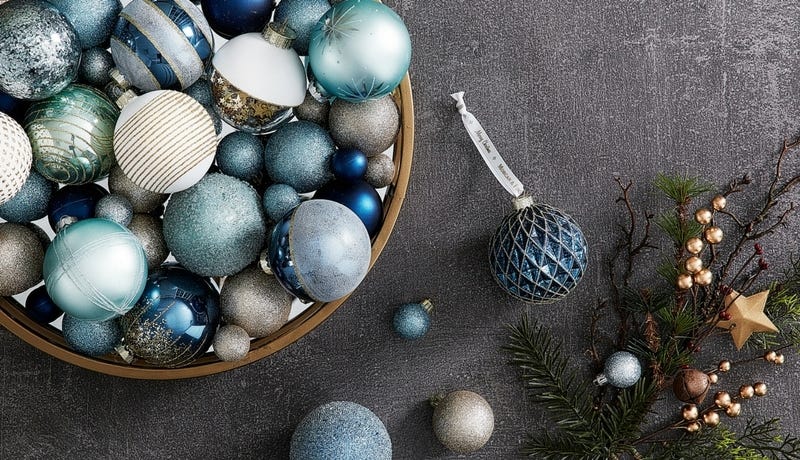 Reminiscent of a starry night sky, the Luna collection pairs frosted glass baubles in accents of midnight blue and brassy gold with sparkling stars and shimmering ornaments. Create a magical 'Night before Christmas' look throughout your home with this enchanting range.
Styling your tree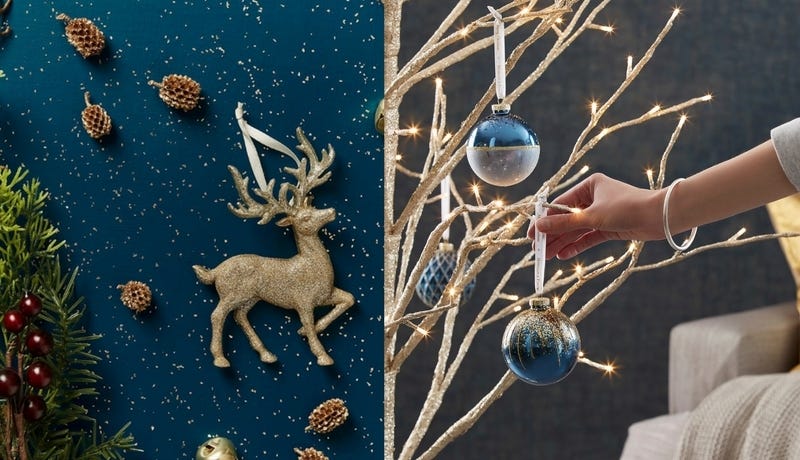 Begin styling your tree with a bauble set in a palette of deep blue, sapphire and brassy gold. Scatter intricate glass decorative baubles amongst the branches in tones of midnight blue with glowing star accents. Complete the 'Night before Christmas' look by placing brassy bell garlands around the tree to replicate the magical sound of Santa's sleigh.
Carrying the look throughout your home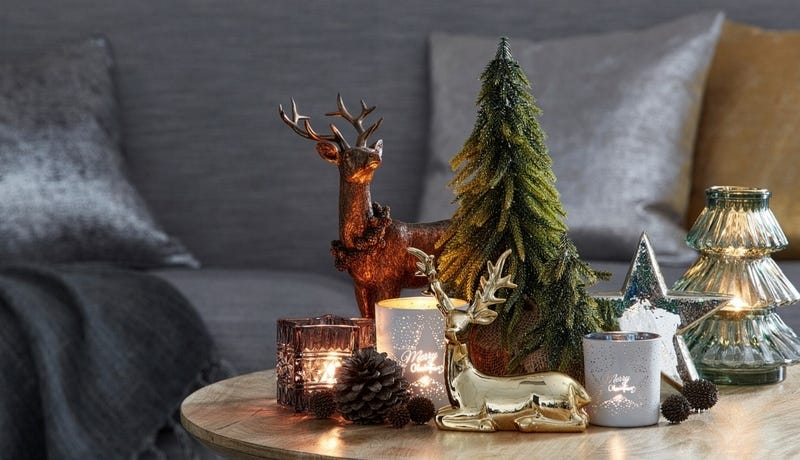 A side table is the perfect space to gather a cluster of standing Christmas décor. Pair elegant reindeer in metallic colours with miniature trees and a collection of glowing tea lights for the final touch of magic. We've added in our gorgeous porcelain standing star to carry the night sky theme throughout the home.
The Final Touches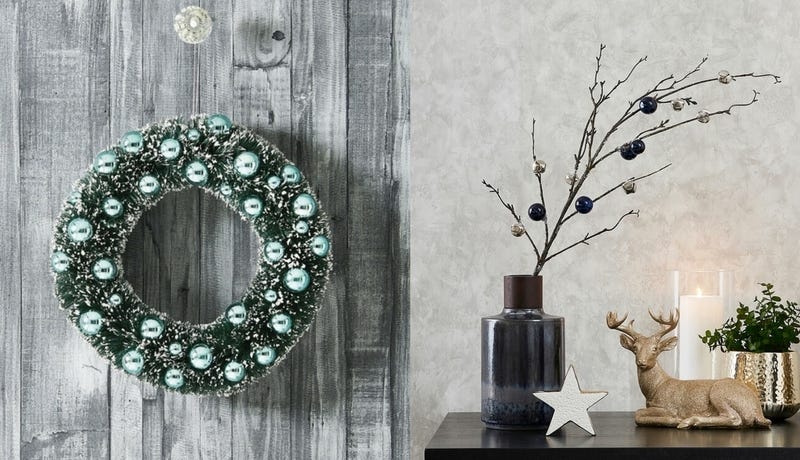 Add the final festive touch with a beautifully intricate metallic leaf wreath at the front door. Carry the midnight blue through to your entranceway with a vase full of decorative stems adorned with blue baubles and bells.
The Traditional collection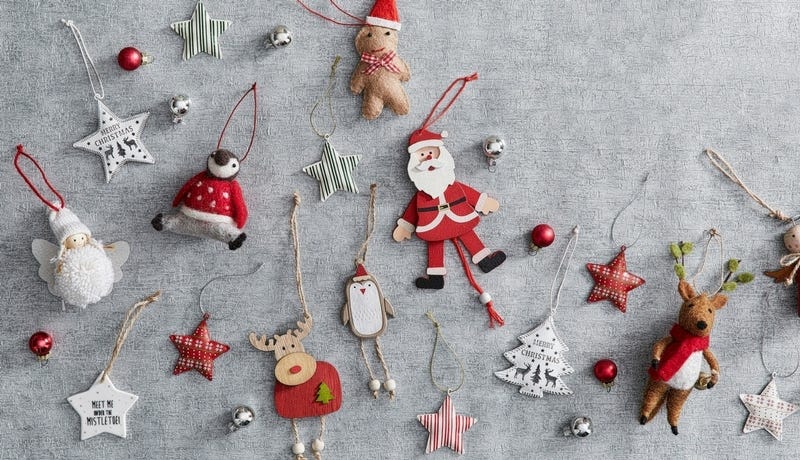 Bring back festive memories and create a sentimental Christmas charm in your home this season with our Traditional range. Celebrate the timeless magic of a traditional Christmas with cherry red baubles, woollen and wooden ornaments and bursts of spruce green.
Styling your tree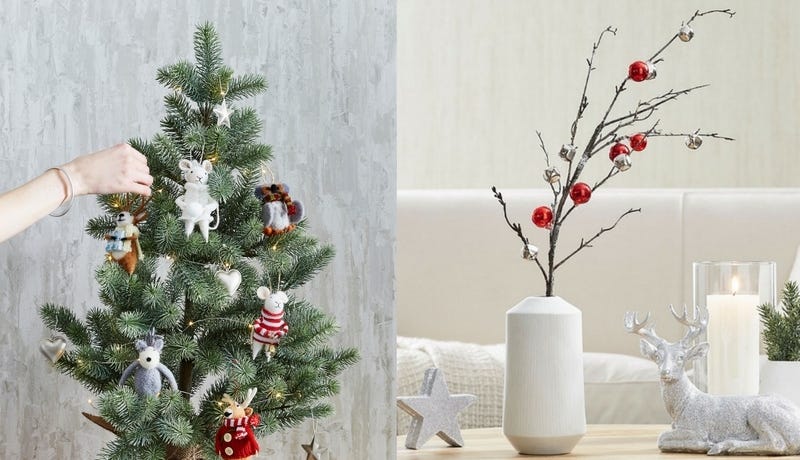 A beautifully adorned evergreen is the main event in most households, so make it special with a nostalgic collection of nutcrackers, angels, gingerbread men and rocking horses alongside the ever-merry Santa. Begin your styling with a classic palette of cherry red and ivory accents. Scatter an array of Santa's little helpers for a gorgeous, rustic charm (woollen and wooden decorations are also perfect for when little ones decide to lend their helping hands!)
Carrying the look throughout your home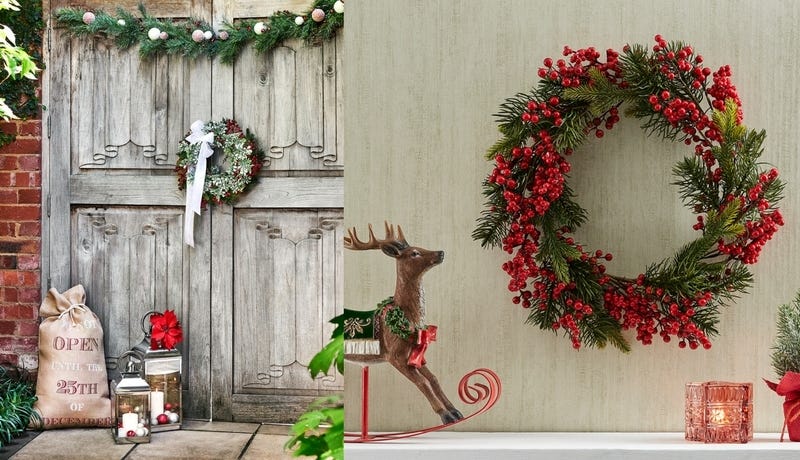 Add some Christmas cheer to the rest of the home with charming, festive décor pieces. Classic snow globes, vintage nutcrackers and miniature trees can be playfully positioned across the mantel and side tables to create a look that will delight children and adults alike. We're completely in love with this gorgeous 'jingle all the way' Christmas car decoration for a cheerful touch!
The Final Touches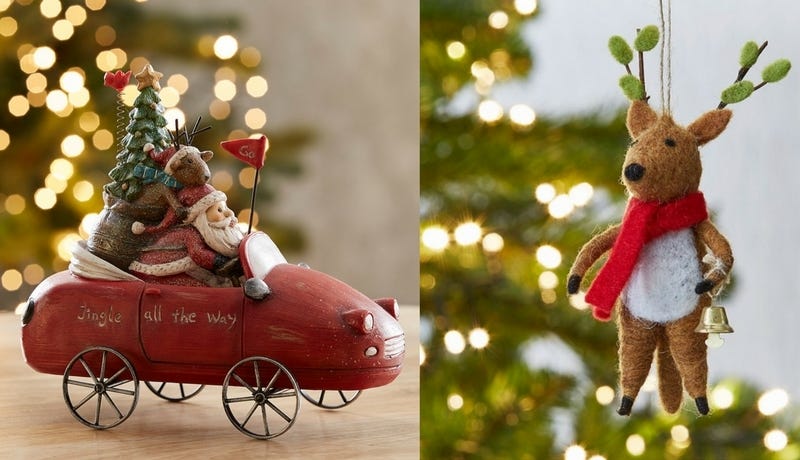 There's nothing more festive than pine evergreens with vibrant red berries when it comes to choosing your wreathes and garlands. These beautifully classic pieces add an instant sense of celebration to your entranceway and throughout your home. Complete the look with a charming rocking reindeer to enhance the nostalgic feel.