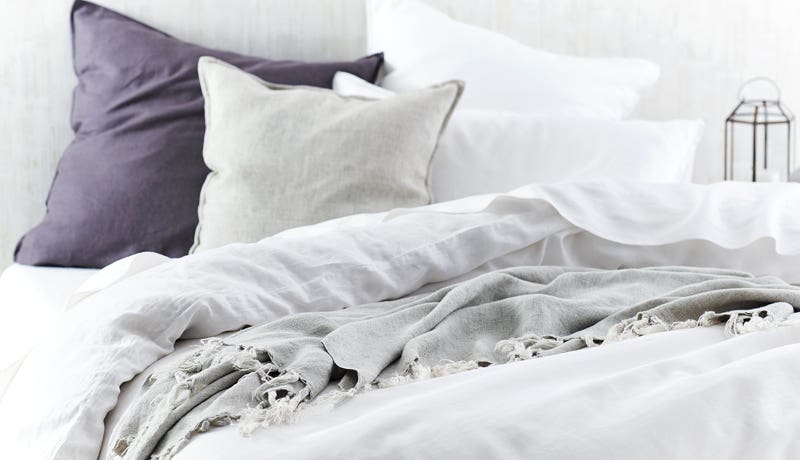 Don't get thrown through a loop! Here's what to look for when searching for your perfect sheet set…
Did you know that one of the most common things to affect the quality of your sleep is the thin layer of fabric that you sleep between? Finding the perfect sheet set to suit you can be one of the most important components to ensure that you're getting a good night's sleep every night.
Let's pull back the covers and answer some of those long-asked questions about sheets so you know what to look for!
What is the first thing to remember when buying sheets?
First and foremost, the most important thing to remember when choosing sheets is to trust your touch and follow what feels right for you! 
When it comes to choosing sheets, it's all about feel. 
We've got a few tips to make sure the sheets that feel right to you are also sheets that are high quality and made to last. 
The three things to look for when buying your sheets are: thread count, material and weave. 
Thinking About Thread Count
What is thread count?
For all the chaos and confusion around the term 'thread count', the meaning behind the myth is actually quite simple – it simply means the total number of threads woven together within ten square centimeters.
Does a higher thread count equal better sheets?
It has long been a misconception that a higher thread count equals a 'better' sheet. In fact, there are benefits for higher and lower thread count sheets.
Lower thread count sheets are usually lighter and therefore have a softer and lighter drape. Higher thread count sheets tend to have a fuller drape due to the higher density of yarn in the fabric. It really does come down to feel.
If you prefer your sheets to have a cooler and lighter feel, then our 375 thread count York sheets or 400 thread count Ashcroft sheets may suit you best.
If your preference is for a luxurious "drapey" feel, then go for our 1200 thread count Luxe sheets.
If you are not looking for either of these options, then aim for a happy medium with our 500 thread count Caton sheets or our 600 thread count Carlson Royale sheets.
Should I choose my sheets based only on thread count?
A simple answer is, no. Thread count it not the only thing you should be looking at when choosing your sheets. You also need to take into account fabric composition – a high thread count means nothing if a low quality yarn is used!
At Bed Bath N' Table, we use only the best quality yarns to ensure we produce the highest quality base cloths.
Mulling Over Material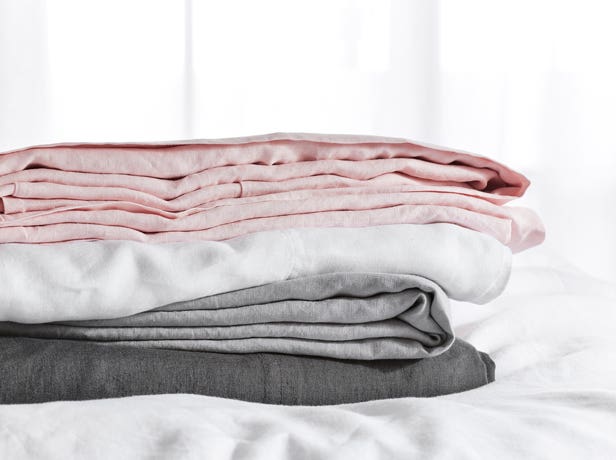 SHOP THE LOOK: Milano Linen Sheet Set
So what is the best fabric composition to suit my needs?
It all depends on what feels best to you! Let's have a look at some of the benefits of each fabric so you can see what suits you best…
Cotton/Polyester: Resilient and Budget-Friendly
Polyester is a strong, synthetic fibre. Fabric made from a cotton and polyester blend is hard wearing, fast-drying, wrinkle resistant and less expensive than pure cotton. However, polyester is less breathable that cotton alone, so try and avoid this material if you're a hot sleeper.
Try our Seville Sheet Set
Pure Cotton:Light and Breathable
The most popular choice for sheets, pure cotton fabric is light, breathable and absorbent – so you won't wake up feeling hot and sticky.
Try our Superior Sheet Set or York Sheet Set
Egyptian Cotton: Durable and Deluxe
Egyptian cotton is known for its excellent lustre, long-wearing and absorbent capabilities. Egyptian cotton fibres have the longest staple, making it the strongest and most durable cotton. It is softer and less likely to create pilling and lint than shorter-staple fibres.
Try our Ashcroft Sheet Set, Carlson Royale Sheet Set or Luxe Sheet Set
Bamboo/Cotton: Indulgent and Eco-Friendly
Renowned for its silk-like softness, light weight and breathability, bamboo has a natural sheen, excellent moisture wicking and absorbency, as well as inherent antibacterial and hypoallergenic properties. Bamboo is also an incredibly sustainable resource and environmentally to produce.
Try our Dalton Sheet Set or Caton Sheet Set
Linen:Lightweight and Luxurious
Lightweight and textural, linen is soft to the touch and distinctively luxurious. Highly breathable and hypoallergenic, linen boasts thermal properties that keep you warm in winter and cool in summer.
Indulge in our Milano Sheet Set
Wondering About the Weave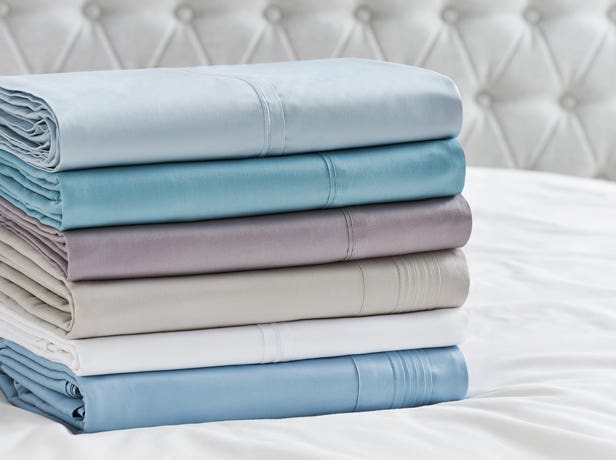 SHOP THE LOOK: Carlson Royale Sheet Set, York Sheet Set, Luxe Sheet Set
Why do different types of cotton sheets feel different?
The cotton base cloth can be constructed using a number of different weaves, resulting in a variety of different finishes. The way a cotton sheet is woven will determine whether it is light and crisp, silky and smooth, or soft and cosy.
How do I choose which type of weave will be best for me?
If you love a silky smooth feel, opt for cotton sateen sheets. With a beautifully silky and lustrous finish, this fabric is created by weaving more threads over the top surface of the fabric. As a result, it is luxuriously soft and smooth against the skin.
If you love a crisp and cool feel, go for cotton percale sheets. Closely woven, a square weave creates a strong and durable fabric with a smooth, matte finish.
If you love a soft, warm and cosy feel, cotton flannelette sheets are for you. Woven from soft spun cotton yarns which are then brushed on both sides, flannelette reduces heat being conducted away from the sleeper to keep you snuggly and warm.
INSIDER TIP – If you love the warmth and softness of flannelette during winter, but get too hot during the warmer months, consider alternating bed sheets seasonally to feel light and fresh in summer and toasty warm in winter.
Still Unsure? Here Are a Few More Things to Consider…
Pondering Pattern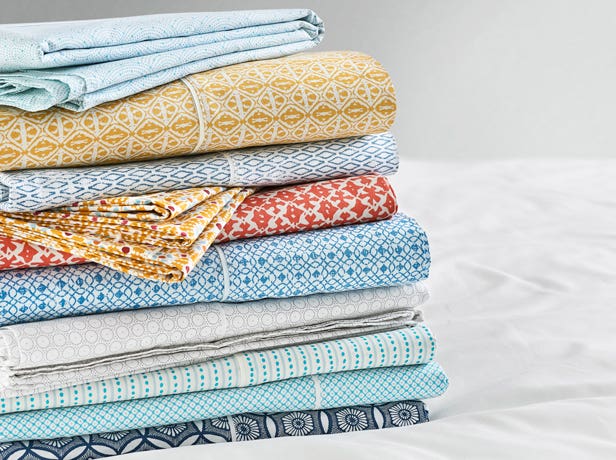 SHOP THE LOOK: Kiki Sheet Set, Zuri Sheet Set, Alara Sheet Set, Ajanta Sheet Set, Saki Sheet Set, Sintra Sheet Set, Della Sheet Set, Loti Sheet Set, Sasha Sheet Set, Marlo Sheet Set
Looking to introduce a little bit of colour and interest into the bedroom? Then have a look at our range of gorgeous patterned sheet sets to re-energise and refresh your bedroom! Pair it with a solid quilt cover to bring a touch of pattern and interest to your bedroom style, or coordinate it with a patterned quilt cover for a complementary look!
Delving Into Depth
Recently invested in an extra deep mattress or pillow topper?
Then remember that this will impact what size depth you will need for your fitted sheet. Our Morgan & Finch sheet sets all have a 37cm or 40cm depth to fit most modern mattresses, but if you need an extra deep sheet, keep a look out for our range of 50cm Extra Deep Queen and Extra Deep King sized sheet sets.
Remembering the Room
Which room are you buying sheets for? Are you looking for something indulgent for the master bedroom, inviting for the guest bedroom, practical for the kids, or easy for the holiday house? Here are a few of our favourites for each room:
The Master Bedroom: Carlson Royale Sheet Set, Caton Sheet Set or Luxe Sheet Set
The Guest Bedroom: York Sheet Set
The Kids Bedroom: Superior Sheet Set
The Holiday House: Seville Sheet Set