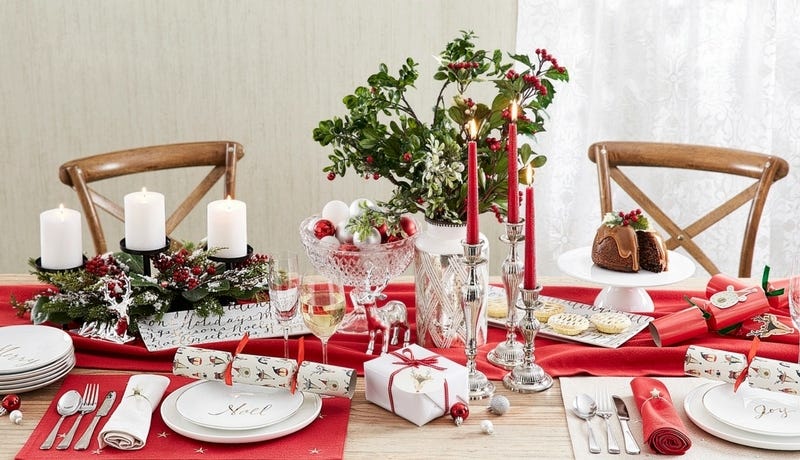 Whether it's traditional or contemporary, casual or lavish, outdoor, indoor, adults only or all about the kids; get creative and add some Christmas cheer to your table this festive season!
Bringing wonder to the eyes of kids and adults alike, discover two of our favourite Christmas table themes for this season…
Traditional Charm
Create a classic Christmas charm on your table this year with a festive combination of cherry red, spruce green and crisp white.
Begin the festivities with a vibrant red tablecloth paired with some beautiful Christmas napery. Our favourite trick is to mix and match your placemats and napkins using sparkling silver and cherry red! Sophisticated white porcelain plates and delicate napkin rings with festive touches bring a relaxed elegance to the table setting.
With the table set to impress, it's time to have some fun and add a touch of Christmas magic with a collection of glowing candles, decorative accessories and a festive centrepiece.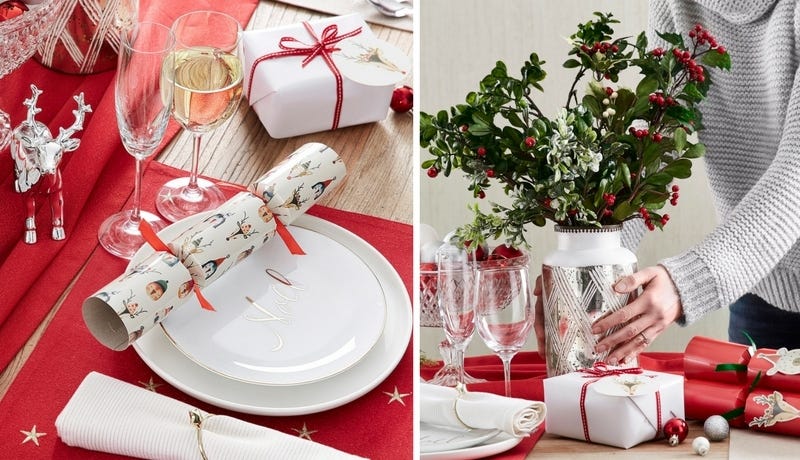 An easy way to create a beautiful centrepiece is to fill a vase full of Christmas stems. Combine frosted pine, red berries and mistletoe and place the vase in the centre of the table. Complement it with an array of glowing candles in elegant candleholders. One of our favourite pieces for the season is the pine and berries candleholder! It's perfect for bringing a lovely touch of evergreen to the table.
Finally, finish the look with some scattered decorative Christmas pieces and top off a cracking Christmas with some popping bonbons!
Woodland Wonderland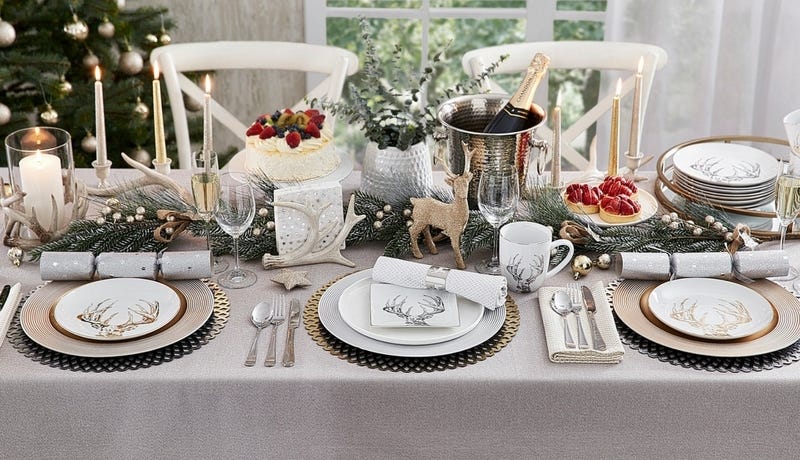 Why not mix it up this year and turn your Christmas table into a sophisticated woodland wonderland!
Inspired by a Nordic Christmas, this style combines a palette of silver, champagne and gold to create a magical, elegant look.
Begin with a sparkling silver tablecloth draped across the table. Next, consider how you'd like to arrange your place settings. Layering your napery and crockery is a great way to instantly create an eye-catching, sophisticated style. Mix and match metallics by layering patterned round placemats complimented with gold and silver chargers and beautifully intricate reindeer plates.
Little touches of elegance such as silver napkin rings paired with gold spotted napkins make all the difference in transforming your Christmas table into an elegant affair.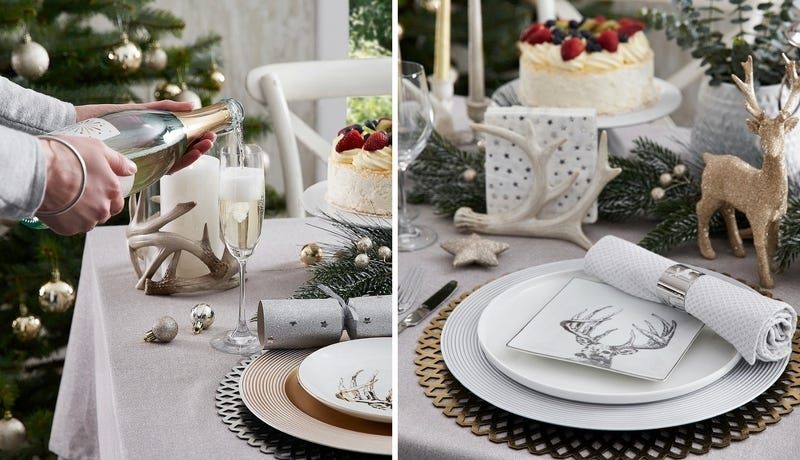 Once you've set the table, it's time to have some fun with your decorating!
A frosted pine garland works beautifully running down the centre of the table. Pair it with enchanting antler candleholders and flickering candles to bring the woodland theme to life. Add the final touch of magic with some sparkling decorative reindeers, scattered baubles and sophisticated silver bonbons.
Insider tip – Don't overthink it! Have some fun experimenting with different creative ideas and don't stress out too much if little ones come along and decide to rearrange it for you. A Christmas table filled with friends and family is a place filled with happiness and laughter so remember to have a bit of fun with it and inspire the Christmas spirit in everyone.