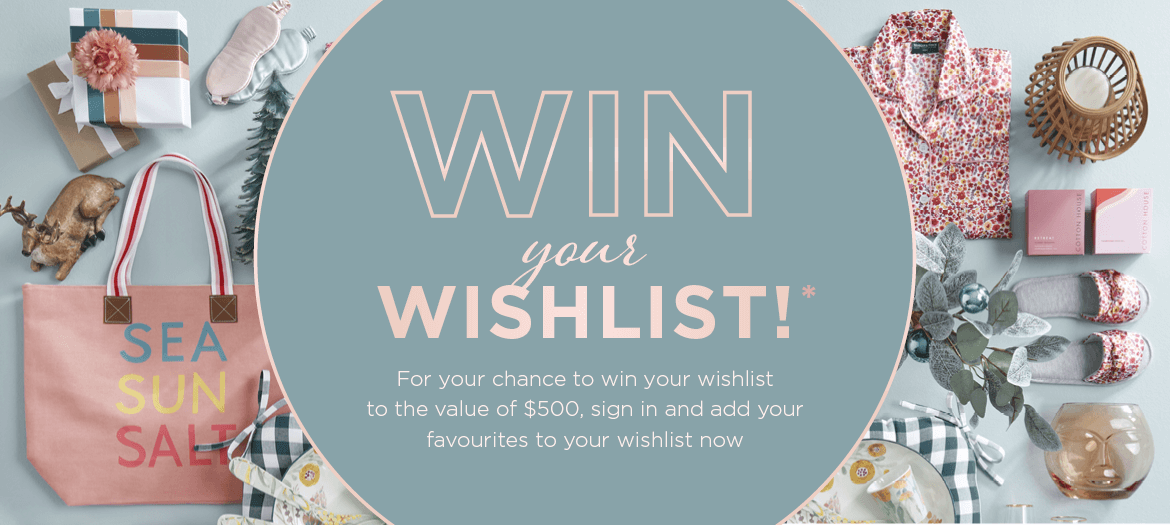 Win your Wishlist to the value of $500 with Bed Bath N' Table
'Tis the season of gifting... so we're getting into the festive spirit with the chance to WIN your Wishlist this Christmas to the value of $500!
To go in the draw to be one of our two lucky winners, simply add your favourite items to a new or existing wishlist in your registered Bed Bath N' Tale Rewards account.
Products can be added to a wishlist via the 'add to wishlist' button.
Not a member? Become a Rewards member today.
Terms & Conditions
Promotion
The promoter is Bed Bath N' Table Pty Ltd (ABN 66 005 216 866) of 255 Burwood Road, Hawthorn, VIC, 3122.
The promotion commences at 9.00 AEST on 12 November 2021, and closes at 11.59pm AEST on 24 November 2021. Entries submitted or received after this time will not be accepted.


Entry Details
To be eligible to win, entrants must add a product, or multiple products, to a new or existing wishlist in their registered Bed Bath N' Table rewards account. Products can be added to a wishlist via the 'add to wishlist' button. Entrants must either have an existing account or create an account. A Bed Bath N' Table reward account can be created through the websites by clicking on 'Sign in / Join' in the top menu. This must be done during the promotion period.
The Promotion is a game of chance, and skill plays no part in the determination of winners.
Entrants can enter one wishlist up until (and including) Wednesday 24th November, 2021.
Bed Bath N' Table does not accept any responsibility for late, lost or misdirected entries or submissions.
Bed Bath N' Table shall determine in its sole discretion whether entrants in the Promotion are eligible or ineligible.
Each valid entry will be entered into a computer-generated randomised system and two competition winners will be drawn at random. Draw location: 255 Burwood Rd Hawthorn 3123. Draw time: 25 November 2021 during business hours 9:00am to 5:30pm AEDT.
By entering the competition, you are agreeing to the Bed Bath N' Table Rewards loyalty program Terms and Conditions and Privacy Policy and you are opting in to receive email and marketing communications. To stop receiving communications from Bed Bath N' Table, you can opt out at any time by logging into your account or by following the link on any of Bed Bath N' Table's email communications.
Prize Details
The winner will be announced by Bed Bath N' Table via email on 29 November, 2021.
The Promotion awards two winners a Bed Bath N' Table gift card to the value of $500 AUD (including GST). Prize includes delivery. The total prize pool of the competition is $1000 AUD.
The winner will be contacted by Bed Bath N' Table via email and must respond to Bed Bath N' Table within 48 hours of notification to accept the prize. If you do not respond within 48 hours of being notified you will forfeit your prize and Bed Bath N' Table reserves the right to select another winner.
Bed Bath N' Table will endeavour to send prize within two weeks of the competition end date but cannot guarantee this delivery time. Bed Bath N' Table accepts no responsibility for lost or undelivered items or incorrectly provided address details.
Prizes are not variable or transferable. Prizes are not redeemable for cash. The judges' decision is final and binding – no correspondence will be entered into. The Promoter accepts no responsibility for late, lost or misdirected entries or other communications. Entries will be deemed void if illegitimate, forged, manipulated or tampered with in any way.
The prize in the form of the gift card is subject to any conditions associated to the use of a Bed Bath N' Table Gift Card.
Bed Bath N' Table shall not be liable for any gift card that has been lost or stolen.

Eligibility Criteria
This competition is open to Australian and New Zealand residents only.
Bed Bath N' Table employees (their immediate families), associated agencies and companies are ineligible to enter.
If a winner is under 18 years of age, then the Promoter reserves the rights in its absolute discretion to award the prize to the winner's parent or guardian.
It is a condition of accepting a prize that the winners of the Promotion may be required to sign a legal release in a form determined by the Promoter in its absolute discretion.
The Promoter reserves the right to request winners to provide proof of identity, proof of residency at the nominated prize delivery address and/or proof of entry validity (including phone bills) in order to claim the prize. Proof of identification, residency and entry considered suitable for verification is at the discretion of the Promoter. In the event that a winner cannot provide suitable proof, the winner will forfeit the prize in whole and no substitute will be offered.
In any event, if a winning entrant does not claim their prize within 48 hours of the date upon which the Promoter first attempts to contact them, they will forfeit the prize.
Unclaimed Prizes. In the event that any prize under the Promotion remains unclaimed 48 hours after the date upon which the Promoter first attempts to contact the relevant winner, provided that the Promoter has made reasonable attempts to contact the winner, the Promoter shall choose an alternative winner.
Bed Bath N' Table and each of its related bodies corporate, their officers, employees and agents will not be liable for any loss, damage or personal injury (including but not limited to indirect or consequential loss) whatsoever that is suffered or sustained in connection with this promotion, the promotion of this promotion or the receipt or use of the prize, except for any liability which cannot be excluded by law.
If for any reason this promotion is not capable of running the promotion as planned, including but not limited to infection by computer virus, bugs, tampering, unauthorised intervention, fraud, technical failures or any other causes beyond the control of Bed Bath N' Table, which corrupt or affect the administration security, fairness or integrity or proper conduct of this promotion, Bed Bath N' Table reserves the right in its sole and absolute discretion to disqualify any individual or entrant who tampers with the entry process, to take any action that may be available, and to cancel, terminate, modify or suspend the competition.
In the event of war, terrorism, state of emergency or disaster Bed Bath N' Table reserves the right (subject to any written direction under applicable law) to cancel, terminate, modify or suspend this promotion.
This promotion is in no way sponsored, endorsed or administered by, or associated with, Instagram or Facebook. By participating you hereby release and hold Instagram harmless from any and all actions, claims, demands, damages or costs arising or resulting from this promotion.
Bed Bath N' Table can be contactedvia email: marketing@bedbathntable.com.au