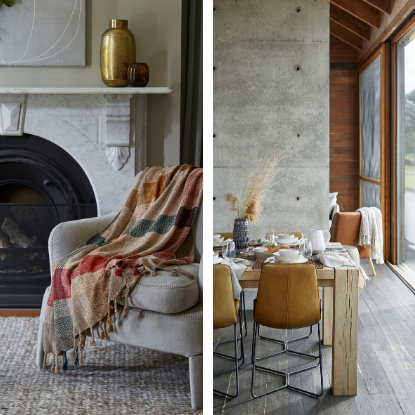 Create a cosy sanctuary this season with winter styles to recreate in the home. This winter we've introduced three new trends to help you achieve an easy update with just a few products. Refresh your home with Reconnect, Golden Light and Re-imagine.
Cosy romance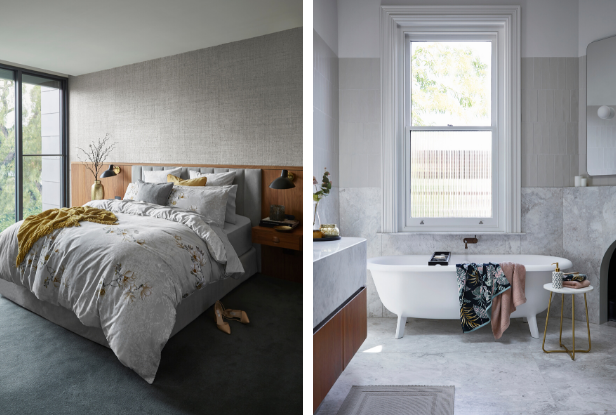 Shop the look: Nemaki quilt cover, Margot chenille throw in mustard, Andorra cushion in grey, Airlie bath towels, Organic Cotton towels, Bamboo Bath Caddy, Faye bathroom accessories
An elegant celebration of classical influences and romantic patterns, the Reconnect collection will bring a luxurious feel to the home. Transform your living space with beautiful chenille tassel throws and plush printed velvets in a deep colour palette for a warm and inviting style. In the bedroom, romantic patterns are combined with cosy textures and decorative metallics. Bring this style to every corner of the house for a romantic interior where old meets new.
Tree-top retreat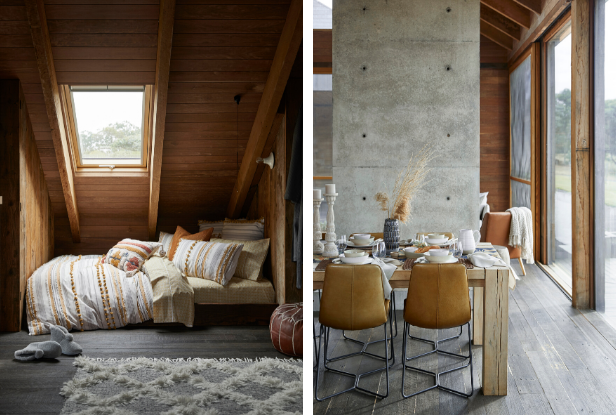 Shop the look: Chantico quilt cover in mustard, Kota tufted cushion, Zuri sheet set, Flinders cushion in ginger, Terra dining
Earthy neutrals and organic textures are at the heart of the Golden Light collection. Introduce heavily textured cushions with woolen tassel trims and open knit throws in soft marled tonal shades for a welcoming winter retreat. Add warmth to every room, from your living space to the bathroom, with golden colours inspired by nature's elements to create a rich glow.
Bold and bright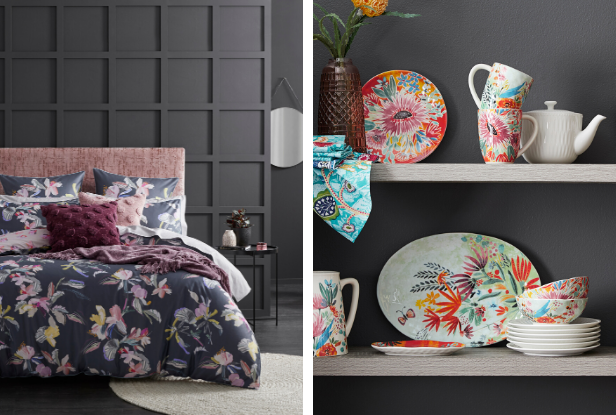 Shop the look: Patti Quilt Cover, Margot Chenille Throw, Imagine Dining
Create a happy home this winter with our Re-imagine collection where saturated colours and bold patterns unite. Rich coloured fabrics and embellished textures drawn from a colour palette of shades of berry, hot pink and fuchsia paired with blues, violets and mustard. Brushed wool striped throws, embellished details on cushions combined with colourful fringes, make a statement for a vibrant home this winter.
Add style to your home this season with our beautiful new winter collections.