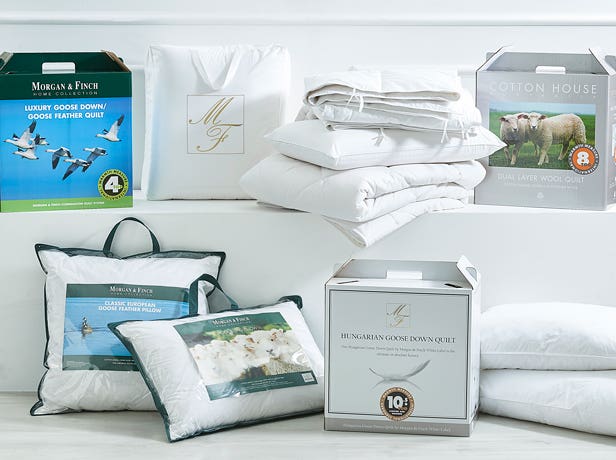 Think all quilts are the same? Think again. Selecting a quilt comes down to personal preference based on warmth, weight and fibre requirements. Let's find the quilt that perfectly suits you!
Looking for something soft, light and fluffy?
You're after a Goose Down Quilt.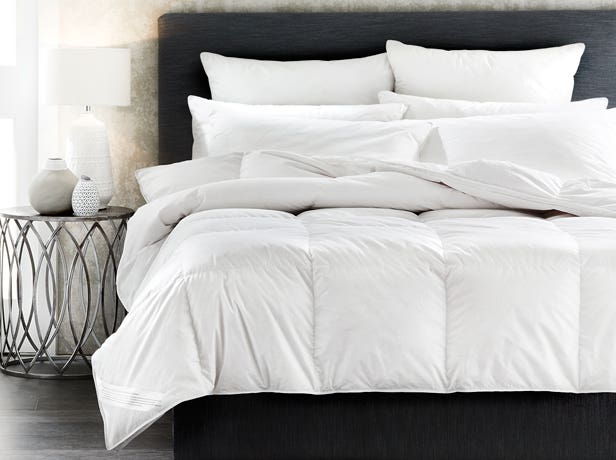 SHOP THE LOOK: Hungarian Goose Down Quilt
If you like a quilt that is luxuriously soft, light and fluffy, then a goose down quilt will have you instantly drifting away into an undisturbed slumber. Goose down and feather quilts have warmth without weight. Being a natural fill, goose down is durable and able to breathe, keeping you warm in winter and cool in summer.
INSIDER TIP: Invest in a goose down quilt as the down clusters are larger and more resilient than a duck down quilt and do not have the same odour issues.
When hunting for a goose down quilt, find one where the filling is stitched into a box construction, which will keep the filling in place for an even warmth across the full quilt (HINT: all Morgan & Finch quilts feature this box stitched construction!). The higher percentage of down to feather in a quilt means that it will be softer, lighter, more resilient and have less quills.
Morgan & Finch offer three levels of goose down/goose feather ratios: 
1. Classic Goose Down Quilt: a classically soft and warm quilt with 40% minimum goose down. Available as 4 or 8 TOG warmth. 
2. Luxury Goose Down Quilt: indulgingly light and soft, this quilt contains 80% minimum goose down. Available as 4 or 8 TOG warmth.
3. Hungarian Goose Down Quilt: for those who wish to sleep in ultimate luxury. At a minimum 80% Hungarian goose down, this quilt is the warmest, lightest, most resilient and has the highest loft. For more information on what makes Hungarian goose down so special click here.
INSIDER TIP: Simply fluff goose down/feather quilts to increase the insulation within each pocket to remain warm and snug in the cooler months or pat down the quilt to create a light, breathable layer in summer.
Does goose down sound perfect for you? Shop our goose down quilt range here.
Need a quilt that's allergy-friendly?
The Microfibre Quilt is for you.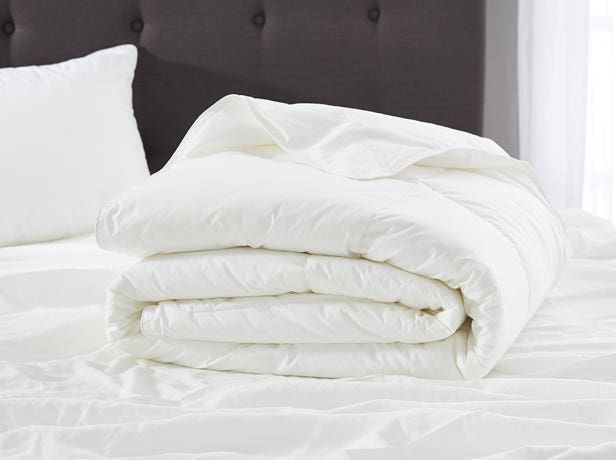 SHOP THE LOOK: Microfibre Quilt
If the softness, lightweight and warmth of goose down sounds like bliss but allergies are keeping you from the ability to use natural fibre products, choose a Microfibre quilt.
Microfibre quilts are designed for those who want the look and feel of feather and down, but are unable to enjoy natural fibre products. Microfibre quilts are filled with a polyester microfibre and are lightweight, have excellent loft and can be used all year round. Our favourite property of microfibre quilts? They are machine washable, making them perfect for allergy sufferers or children who may need their quilts washed regularly.
Is the Microfibre Quilt what you've been looking for? Then click here.
Prefer a heavier layer of warmth?
You are looking for a Wool Quilt.
The ultimate renewable resource, wool is a natural fibre and insulator that is warmer in winter and cooler in summer. Wool breathes and absorbs water away from the body, allowing for even warmth and a more comfortable sleeping environment. Wool quilts sit flatter and tend to feel heavier than goose down and microfibre quilts, making them ideal for cooler months and cold sleepers.
INSIDER TIP: If you've ever had the disagreement of finding a quilt that suits two different individuals' warmth needs, wool has the natural ability of creating a microclimate which helps to regulate body temperature and reduce hot spots to assist in a well-ventilated bed.
Is wool the winner? Choose between the Morgan & Finch Wool Quilt or the Cotton House Dual Layer Wool Quilt.
Love a lightweight layer?
Choose our Cotton Quilt.
SHOP THE LOOK: Cotton Quilt
Light and breathable, a cotton quilt is the perfect choice for hot sleepers or warm climates. Filled with 100% high quality cotton, the quilt is also a great hypoallergenic option. Encased in a luxurious cotton sateen stripe cover, this natural fibre has a high absorbency and low warmth rating making it soft and cosy yet light and breathable.
Looking for an eco-friendly option?
The Bamboo Quilt is perfect for you.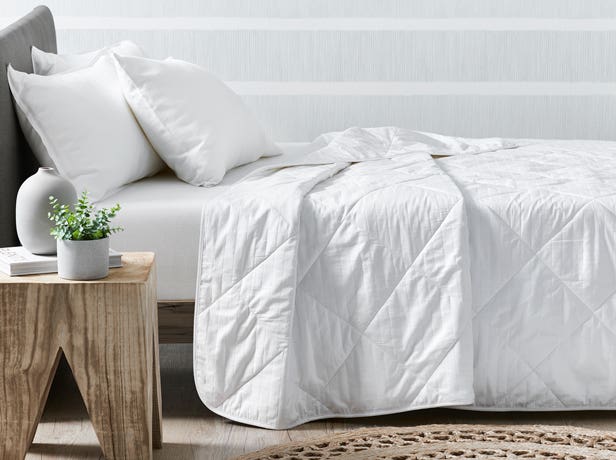 SHOP THE LOOK: Bamboo Quilt
Naturally lightweight, soft and breathable, a bamboo quilt is the go-to for those who prefer a quilt that has warmth without bulk. An incredibly sustainable resource, bamboo is fast-growing, resilient and naturally renewable.
Our favourite eco-friendly quilt, it is environmentally sound to produce and is inherently resistant to mould, bacteria and odours. Bamboo is also an excellent choice for allergy sufferers as it is hypoallergenic and resistant to dust mites.
With less loft than other fibres, bamboo quilts are better suited to people who live in warmer climates or for use during the summer months.
Find the Bamboo Quilt here.