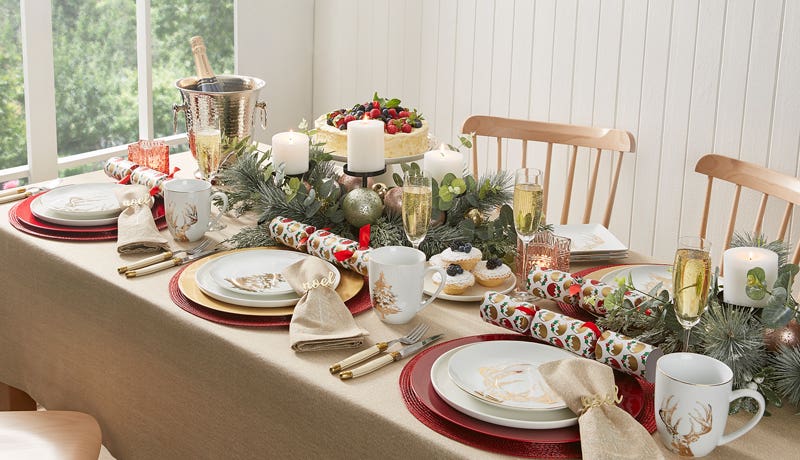 If you're hosting Christmas this year, it's never too early to start thinking about the Christmas table – and year after year, we can't go past traditional charm.
Forever in style, a traditional Christmas table creates a classic feel reminiscent of treasured memories and Christmas' past.
Read on for inspiration as we celebrate the enduring style of a traditional Christmas…
Traditional Charm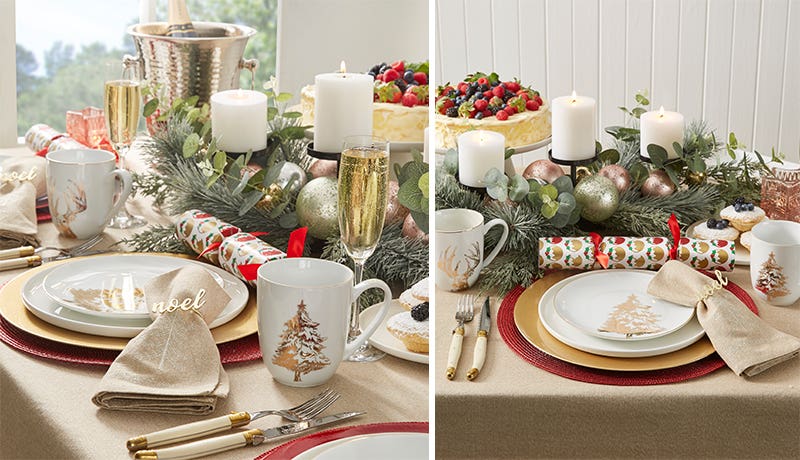 Our new twist on traditional embraces the classic cherry red synonymous with traditional style, but is perfectly paired with festive gold hues and highlights of beautiful blush tones for a look that's fresh and modern.
The Essential Ingredients
The basics are the building blocks to a great table setting, so begin with a sparkling gold tablecloth draped across the table. Layering your napery and crockery is a great way to instantly create an eye-catching, sophisticated style. To keep the look traditional, we've used red placemats as the base and layered with a mix of gold and red chargers. Beautifully intricate Christmas motif plates add a subtle touch of festive charm. Napery in gold with an elegant shimmer finish will keep the table setting modern and fresh.
The Decorative Touches
With the table set to impress, it's time to have some fun with your decorating. And it's Christmas after all, so here you can be as subtle or extravagant as you desire!
Pine Candle Holder with Baubles, which adds a lovely and festive touch of evergreen to the table, and makes the perfect, show-stopping centrepiece.
Complement the look with a selection of glowing candles in elegant tealight holders.
The Finer Details
It's all in the details so get creative with adding some festive flair.
Sprinkle a little magic with napery adorned with our favourite Noel napkin rings, and top off a cracking Christmas with some popping bon bons.
Australian Merriment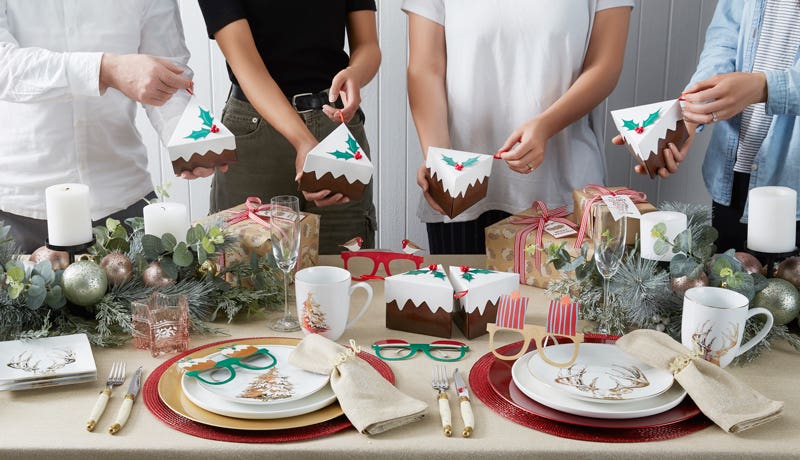 'Tis the season for festive joy, so celebrate your inner-larrikin with our Australian take on a traditional Christmas.
Delight adults and children alike by adding some fun to your traditional setting! Our Pud N Pull Fun Cracker will bring the family together with this modern take on a traditional bon bon. Complete the festivities with our range of Novelty Glasses and Reindeer Antler Headbands.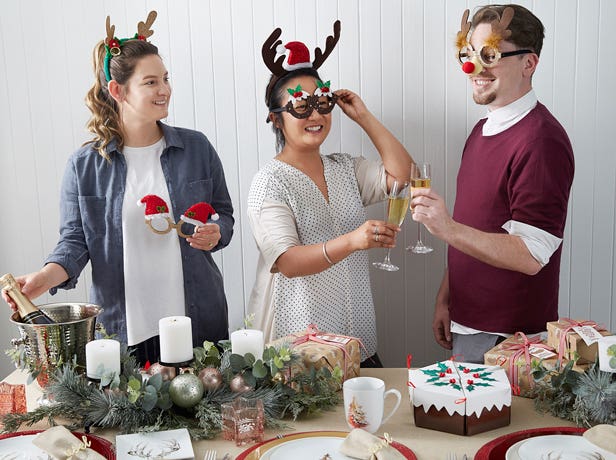 Insider Tip: Don't overthink it! Have fun experimenting with different ideas and don't stress too much if little ones come along and decide to rearrange the table for you. A Christmas table filled with family and friends is a place filled with happiness and laughter, so remember to have a bit of fun with it and inspire the Christmas spirit in everyone.